Every few months – or when inspiration strikes – I update my now page to share what I'm up to right now! Easy peasy, lemon squeezy.
---
Latest Update & new e.i.b.
March 16, 2023
🐝  🦋  🪲 🦇 Where I'm at right now, virtually: Late Checkout Land and Foster
Late Checkout Land is currently a closed group of 100 folks on Slack. It's for people leading their own communities. Yep! Endless community talk!
Foster is a place I fall in love with more and more day by day. It's a Google Doc Chrome Extension where writers can instantly connect with editors – and oh so much more. Pay to join as a writer (and have your writing edited!) or apply to join as a contributor (and be an editor!).
What's this new e.i.b.?
I love being a part of groups and communities, both virtual and fleshy* containers.
I love it so much and I have been joining so many that I find myself pulled in too many directions, wanting to fully sink into a few to more substantial get to know the humans within the groups and also the groups themselves. I've been feeling like I need to be everywhere at all once. It's a problem of my own design. And it's not even a problem. It's a joy of abundance, really.
The experiment in belonging is this: act as if I am traveling to one or a few groups at a time. I love traveling because it gives me the opportunity to fully focus on the journey and the new-to-me space I've found myself in. When I am at home, I hardly ever give myself this same opportunity to fully focus. But it's in the realm of focus that I can meet myself, meet another, and meet the beyond.
So, with that, here's the list of virtual groups I'm hanging out in for the foreseeable future. I plan to update here with which ones I'm giving my focus, too, month to month.
Questions I'm asking while in this e.i.b.:
what's the cadence of switching from one group to another?
are there natural clusters of a few groups that I want to be in simultaneously? do the groups riff off one another?
how do I experience JOMO (joy of missing out) and FOMO (fear of missing out) while in this e.i.b.?
what delightful surprises reveal themselves? what not so delightful surprises reveal themselves?
🐝  🦋  🪲 🦇 What's with the emojis?
They're all pollinators! And I'm practicing being a community pollinator!
I am practicing being a pollinator
-- buzzing plant to plant
pausing at the beloved
and at the new.
welcoming pollen onto all my parts
letting it fly
where it's desired
and needed.
where I'm desired
and needed.
where I desire
and need.
Updated May 20, 2022
Changing...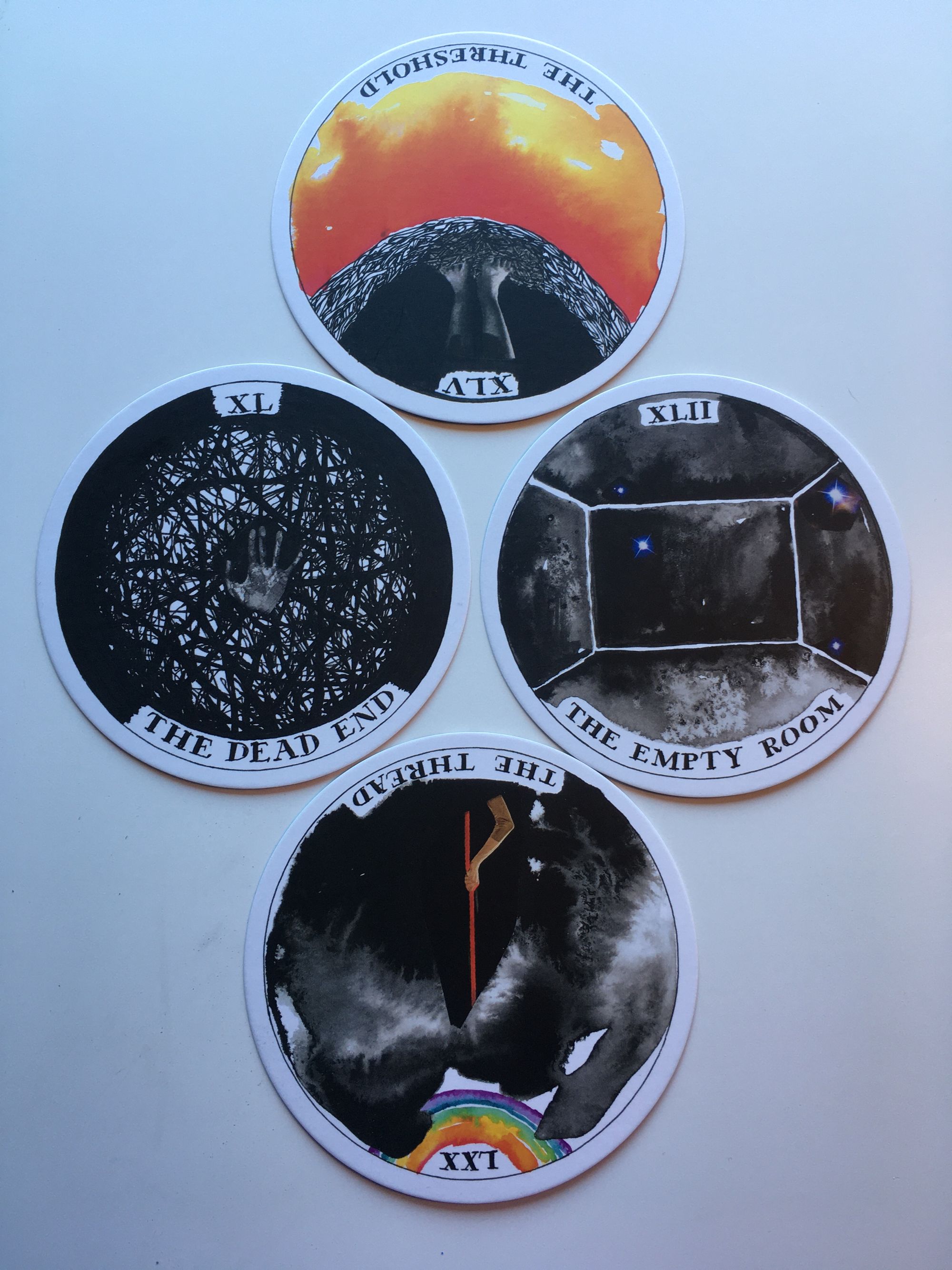 I think these cards came out of a pull about a month ago. Lisa, one of the kindest humans I've ever met, lent me a bag of Tarot decks months ago. I've been wanting a deck to call my own but knew I needed the tactile experience before knowing which one suited me and my life right now.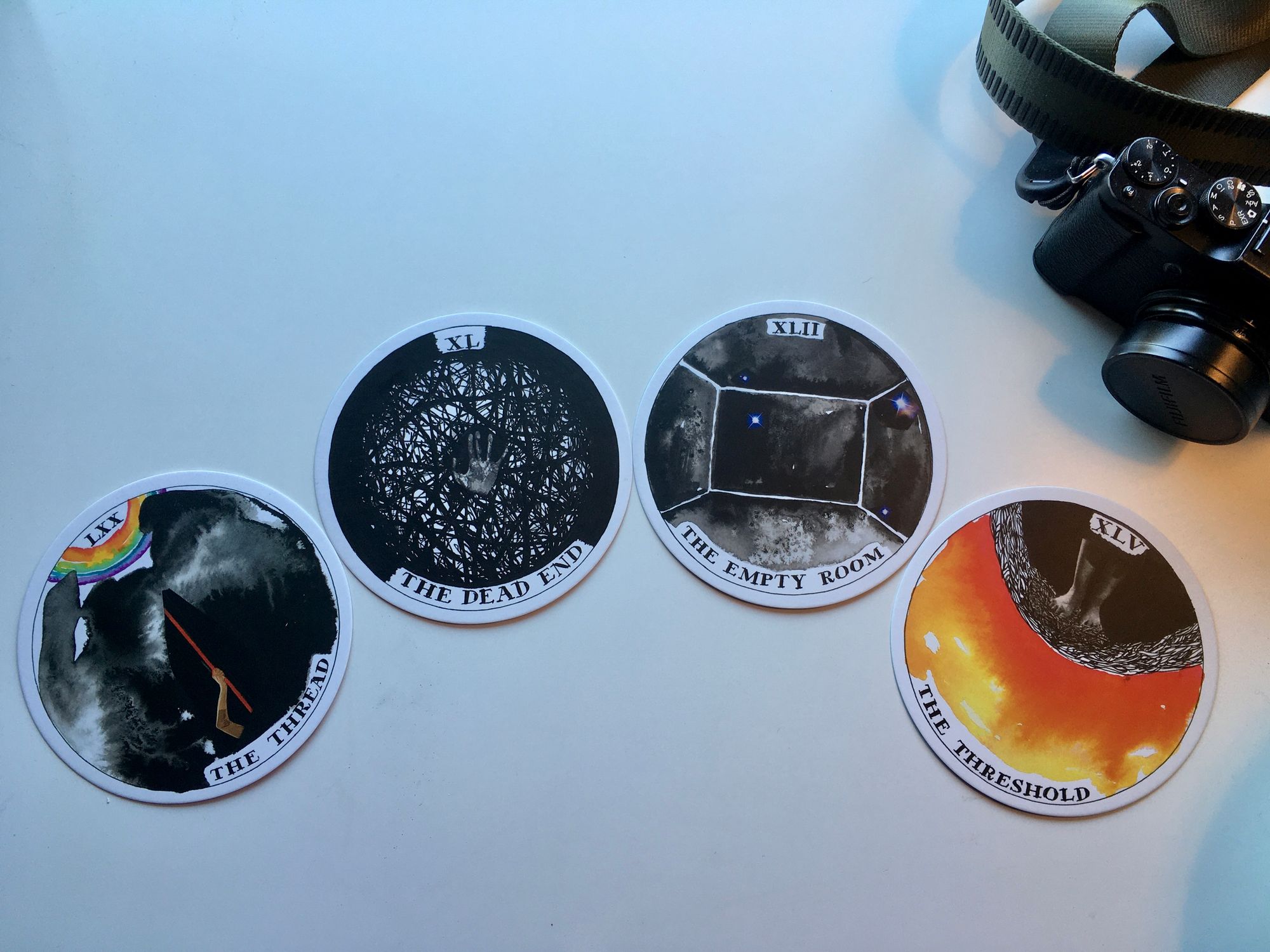 I told her about how I connected with a Wild Unknown deck in the past. As she handed me the big bag of options, she told me she included a deck that wasn't a Tarot-based set but... she had an inkling I might connect with it. I've been pulling cards from it ever since. And may finally actually order it for myself so that I can take the big bag of options back to their rightful home.
The spread is an example of one of the many ways the unknown, uncertainty, endings, courage and next steps are slowly revealing themselves to me.
What dead ends are present? What empty rooms are exposing themselves? What thresholds am I stepping through? What threads are connecting past, present, and future?
I have more questions than answers. I'm feeling great shifts in my relationship with work. And I'm very excited for what's to come.
Belonging...
As there are more and more days of blue skies and puffy clouds, Ernest and I are sitting out in nature more often (as opposed to walking and hiking to stay warm and dry-ish). Even when it's not such easy weather, I find myself squatting and eventually just letting my rainpants-covered bum get damp by sitting down whenever the environment invites me to. When it's not cold, my body seems to give the okay to stay put for a bit.
Yesterday I sat down on a handmade bench in the nearby forest and recorded a "Bench Note" on my phone. Maybe it'll make its way onto the podcast that only has a beginning? Ha. I'm not making any promises.
As the school year comes to a close, I'm finding myself reflecting on the children with whom I've been learning in (and with) the forest. How much they've evolved since September! How much comfort and care I feel witnessing their love and connection with each other, with leaves, water, climbing, trying new things, fire-making, and more.
I've started a new experiment working with an awesome friend and colleague who is getting season three of her podcast ready to share with the world. She asked me if I'd like to support as a creative consultant. So now, I hold the role of podcast creative consultant. It's been a privilege to work with her and learn about her and her workflow, as well as mine, and how crucial creativity support is.
Nature...
This feels like the first Spring that I haven't felt a personally challenging and rough seasonal transition. Maybe it's because I was able to go on two adventures that supported the transition from cold into warmth and hibernation into blooming?
I recently delved into learning about wolves, their social support structure, and the heart-wrenching, despicable ways that humans have treated and currently treat wolves. I read The Hidden Life of Wolves and dove into the kind ways in which Jim and Jamie Dutcher supported wolves through their connection and photography. Exposing myself to the dreadful treatment of a species much like our own reminds me how valuable it is to truly learn what's happening beyond one's own bubble. Even when the wolf doesn't seem to relate at all to my day to day life, I know at my core that the wolf and I are in fact intertwined and impact one another in known and unknown ways.
The wolf study began as a work project but definitely became a heart project (that's not a thing but I guess I just made it a thing). I gave my best effort at it for the work project though feel unsettled and uncertain. I have questions about the best ways to support children in learning about humans' treatment of other species.
Nature offers me gifts of learning all the time. I can apply what I learn wherever I am, whoever I'm with... whether I'm on my laptop indoors on a Zoom – in what would at first glance seem to be nature-disconnected – or out in the snow in the Mount Hood National Forest, I can allow nature to inform me and what and how I connect with my colleagues, friends, family, neighbors, and all the more-than-humans out there too.
Updated February 13, 2022
Changing...
I very recently started a fourth job! This job checks off many of the boxes I've had on my ideal part-time job list, which is awesome. It moves at a pace that it is a touch faster than the pace I'm used to in nature-based early childhood spaces but, as I'm learning about myself, I enjoy having variety and so, variety in pace is valuable, too!
The past few weeks I've gotten into a groove of a morning practice of yoga and a new-to-me mudra and then a get-out-quick to the nearby forest with Ernest. Every time I've given myself the time to stretch, breathe, and center it seriously changes my day for the better and yet, having a daily practice has felt out of my reach – until now I guess.
I've also been getting into a groove of doing Monday Hour One (How Michelle Pellizzon, the person who I learned about it through, uses Monday Hour One and Notion) in the late morning on Mondays and my week's have flowed more smoothly as a result.
Belonging...
New job means new community, which is awesome for a human like me who loves getting to know new humans who have similar interests to me.
Now that it's more than half way into the school year at the forest kindergarten, I also feel like there's a depth to a sense of belonging, a familiarity with one another. I also feel a whole lot more reacquainted with my educator self than I did at the beginning of the school year. Since I wasn't with a consistent group of children last school year, it seemed like that part of me went into hibernation period, a wintering, if you will, that allowed for a whole lot of unlearning, deep relaxation and shedding.
I'm steadily working on the cocreation publication with a small and incredibly supportive group of people. The experiential and experimental work is feeding me in a way unlike many other projects – I think in large part due to it being so aligned with what I'm feeling called to share.
Choose to sign up for the waitlist to know when it launches, and be included on the launch process behind the scenes.
Nature...
Is it Spring? Is it Winter? My body tends to feel colder more easily at this transition period in February. Ernest and I are finding ourselves at our normal haunts near home.
I am relearning that my being and body love when I get to be within nature that takes over at least one of my senses, if not more. Why does it feel better to me to be ON the beach, right by the waves than it does to be looking at the water from above on a cliff? I think in large part it's due to the sounds of the waves... the sound takes over my hearing experience and reminds my being and body in a very healthy and supportive way how small I am in comparison, I feel "right-sized" – that's the word that resonates with me.
Updated October 29, 2021
Changing...
A week after writing my update below on July 26, 2021, I began my first "12 Week Year" (animated video summary of the book– the creator did a solid job of summarizing the book though it's a bummer I quickly noticed that all the images of people he used are male.. I sent him a note sharing my observation with him 😉).
I followed as much of the approach as I could and on this evening that I write this update, I'm at the end of week 13 so next Monday I'll begin my second 12 Week Year.
I'm loving that this approach has helped me lessen the decision fatigue I was facing on a day to day basis. I get three big goals to focus on for 3 months. That's it. Of course, there is a bunch of day to day stuff as well as other important elements of my life I tend to that don't fall under the realms of these three goals but the big needle pushing tasks are within my goals and so I know I'm going to be moving in the direction I am intending to (even if I don't know where I'll end up!).
Over this weekend I'm reviewing, reflecting, and celebrating as well as setting the foundation for my new 12 week year!
Belonging...
In September I started two new part-time positions, both I love for incredibly different reasons. I started teaching at the forest kindergarten Nature Nuts one day a week and get to be immersed in the outdoors with young children and great grown-ups all day long. I also stepped into a newly designed role at Quiet Heart Wilderness School as their Facilities and Resource Manager.
In stepping into these two new roles over the past two months, I am witnessing my weekly and daily rhythms adjust, morph and breathe differently than they have been over these 1.5+ pandemic years. I've been meeting so many new folks in virtual communities and now it's supportive to also be meeting new folks through in person communities.
Entering into these two new communities and roles has also meant that I've needed to step away from other communities and roles. I write about this in this essay about community thresholds.
Updated July 26, 2021
Changing...
I'm in the midst of mapping my personal and work projects with my friend and awesome collaborator, Heather Riley. These visualization mapping sessions with Heather have been giving me the "big picture" as well as the aligned clarity I've been needing in the midst of the professional changes I'm moving through.
Belonging...
I am receiving heaps of rhubarb, celery, onions, and chicken eggs from neighbors across the street and down the hill.
I am tending to delicata squash, kale, tomatoes, onions, celery, mint, cilantro, garlic in my container garden. I am giving cilantro to neighbors.
I am choosing to join:
a virtual book club,
a virtual meditation group,
and virtual therapy.
I am meeting weekly with a financial accountability partner. We've been meeting for over a year after taking Megan deBoer's Equipped to Thrive course together (which was awesome).
I'm choosing to be a joiner right now to support my innate gravitation towards being an initiator.
Nature...
My husband, Ernest (the doggo) and I recently returned from a van adventure to Montana. We rented a van from Cascade Adventure Vans. My husband's shop, Mammoth Vans, designed and built out the rental fleet for Cascade.
We stayed in a different spot each night sometimes a campsite and sometimes public land, each day brought awesome nature, belonging and change. Some days brought hammocking, some days brought lots of driving, some days brought exploring cute downtowns.
Now that we're back home, Ernest and I have gotten into a groove of doing our "long loop" walk in the neighborhood almost every late morning which takes us past the Puget Sound.
Listening...
I'm enjoying catching up on Cait Flanders' Opting Out With Cait Flanders podcast. I learned about her podcast when she had about 10 episodes out and I'm almost caught up to her regular weekly episode drops.
---
This is a now page, and if you have your own site, I recommend you make one, too! Thanks to Nicole Colter for telling me about what a now page is.